Motor Cross Reference Chart or Click here to order the Economy version or click here to order the good version
No. of Cells:

2 - 3 Li-Poly
6 - 10 NiCd/NiMH

Kv:

1000 RPM/V

Max Efficiency:

80%

Max Efficiency Current:

4 - 10A (>75%)

No Load Current:

0.5A @10V

Resistance:

0.090 ohms

Max Current:

13A for 60S

Max Watts:

150W

Weight:

52.7 g / 1.86 oz

Size:

28 mm dia x 28 mm bell length

Shaft Diameter:

3.2 mm

Poles:

14

Model Weight:

300 - 800g / 10.5 - 28.2 oz
An small yet powerful motor for planes up to 800 grams (28 oz) using 3 li-poly cells. We suggest propping for around 140 watts continuous power with short bursts up to 180 watts. An excellent higher-powered replacement for geared Speed 400-480 motors in slow-flying or 3D planes that require a larger 10" propeller. Use on sailplanes up to 28 oz, trainers up to 25 oz, aerobatic aircraft up to 18 oz and 3D airplanes up to 15 oz. Recommended prop is 10 x 5 on 3 li-poly cells.

The motor features a 3.2mm hardened steel shaft, dual ball bearings, and has 3.5mm gold spring male connectors already attached and includes 3 female connectors for your speed control. Now includes collet type prop adapter and radial motor mount. Mounting holes have 16mm and 19mm spacing on centers and are tapped for 3mm (M3) screws.

Similar to Welgard A2212-13, AXI Gold A2212/26, Welgard C2830-12, E-Flite Park 400. Great replacement motor for a 1/2A Texaco engine.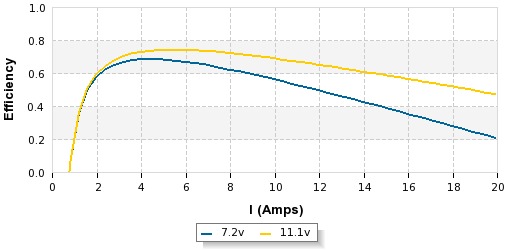 Io Test Data
| Volts | Amps | RPM |
| --- | --- | --- |
| 7 | 0.6 | 7380 |
| 8 | 0.65 | 8460 |
| 10 | 0.75 | 10500 |
Test Data
| Propeller | Gear Ratio | Volts | Amps | Watts | RPM | Speed (mph) | Thrust (g) | Thrust (oz) | Temp (C) |
| --- | --- | --- | --- | --- | --- | --- | --- | --- | --- |
| GWS HD 8x4 | 1 | 7 | 3.35 | 23 | 6630 | 25.1 | 226 | 7.97 | |
| GWS HD 8x4 | 1 | 7.9 | 4.1 | 32 | 7410 | 28.1 | 287 | 10.12 | |
| GWS HD 8x4 | 1 | 8.9 | 4.85 | 43 | 8220 | 31.1 | 347 | 12.24 | |
| GWS HD 8x4 | 1 | 9.9 | 5.65 | 55 | 8940 | 33.9 | 420 | 14.82 | |
| GWS HD 8x4 | 1 | 10.9 | 6.5 | 70 | 9660 | 36.6 | 495 | 17.46 | |
| GWS HD 9x5 | 1 | 6.9 | 5.5 | 37 | 6000 | 28.4 | 348 | 12.28 | |
| GWS HD 9x5 | 1 | 7.9 | 6.7 | 52 | 6660 | 31.5 | 436 | 15.38 | |
| GWS HD 9x5 | 1 | 8.9 | 7.85 | 69 | 7290 | 34.5 | 526 | 18.55 | |
| GWS HD 9x5 | 1 | 9.9 | 9.25 | 91 | 7920 | 37.5 | 627 | 22.12 | |
| APC E 10x5 | 1 | 6.9 | 7 | 48 | 5610 | 26.6 | 406 | 14.32 | |
| APC E 10x5 | 1 | 7.9 | 8.45 | 66 | 6120 | 29.0 | 505 | 17.81 | |
| APC E 10x5 | 1 | 8.9 | 9.9 | 88 | 6690 | 31.7 | 604 | 21.31 | |
| APC E 10x5 | 1 | 9.9 | 11.45 | 113 | 7170 | 34.0 | 702 | 24.76 | |
| APC E 10x5 | 1 | 10.9 | 13 | 141 | 7650 | 36.2 | 802 | 28.29 | |
| GWS HD 10x6 | 1 | 6.9 | 7.2 | 49 | 5610 | 31.9 | 424 | 14.96 | |
| GWS HD 10x6 | 1 | 7.9 | 8.7 | 68 | 6180 | 35.1 | 526 | 18.55 | |
| GWS HD 10x6 | 1 | 8.9 | 10.1 | 89 | 6690 | 38.0 | 617 | 21.76 | |
| GWS HD 10x6 | 1 | 9.9 | 11.7 | 115 | 7200 | 40.9 | 722 | 25.47 | |
| GWS HD 10x6 | 1 | 10.9 | 13.25 | 144 | 7680 | 43.6 | 817 | 28.82 | |
| GWS HD 10x8 | 1 | 10.8 | 18.2 | 196 | 6390 | 48.4 | 733 | 25.86 | |