No. of Cells:

2 - 3 Li-Poly
6 - 10 NiCd/NiMH

Kv:

950 RPM/V

Max Efficiency:

80%

Max Efficiency Current:

5 - 15A (>75%)

No Load Current:

0.9A @10V

Resistance:

0.095 ohms

Max Current:

18A for 60S

Max Watts:

200W

Weight:

73.4 g / 2.59 oz

Size:

27.8 mm x 34 mm

Shaft Diameter:

4mm

Poles:

14

Model Weight:

300 - 1000g / 10.5 - 35 oz
Use this motor with 2-3 cell Li-Poly packs and 10-11 inch props on planes up to 35 oz flying weight. Manufacturer recommends a 10x6 prop on 3-cells and a 11x4.7 prop on 2-cells. We suggest propping for around 180 watts continuous.

Similar to AXI Gold 2217/20, E-Flite Park 450


The motor features a 4mm hardened steel shaft, dual ball bearings for the shaft and has 3.5mm gold spring male connectors already attached with 3 female connectors included for your speed control. Also includes accessory package with the pictured aluminum radial cross mount set with 6mm prop adapter. Mounting holes are spaced 19mm and 16mm on center and are tapped for 3mm (M3) and 2.6mm (M2.6) screws.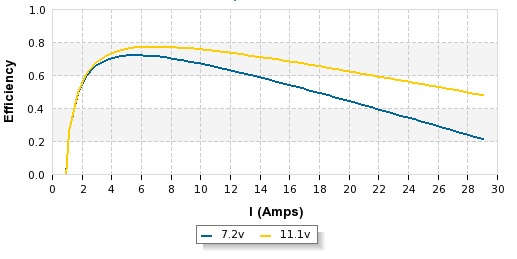 | Propeller | Gear Ratio | Volts | Amps | Watts | RPM | Speed (mph) | Thrust (g) | Thrust (oz) | Temp (C) |
| --- | --- | --- | --- | --- | --- | --- | --- | --- | --- |
| GWS HD 8x4 | 1 | 6.9 | 3.75 | 25 | 6840 | 25.9 | 241 | 8.50 | |
| GWS HD 8x4 | 1 | 7.9 | 4.6 | 36 | 7680 | 29.1 | 306 | 10.79 | |
| GWS HD 8x4 | 1 | 8.9 | 5.45 | 48 | 8490 | 32.2 | 379 | 13.37 | |
| GWS HD 8x4 | 1 | 9.9 | 6.5 | 64 | 9330 | 35.3 | 464 | 16.37 | |
| GWS HD 8x4 | 1 | 10.9 | 7.45 | 81 | 10110 | 38.3 | 547 | 19.29 | |
| GWS HD 9x5 | 1 | 6.9 | 6.3 | 43 | 6330 | 30.0 | 382 | 13.47 | |
| GWS HD 9x5 | 1 | 7.9 | 7.7 | 60 | 7020 | 33.2 | 484 | 17.07 | |
| GWS HD 9x5 | 1 | 8.9 | 9.25 | 82 | 7770 | 36.8 | 595 | 20.99 | |
| GWS HD 9x5 | 1 | 9.9 | 10.75 | 106 | 8430 | 39.9 | 701 | 24.73 | |
| GWS HD 9x5 | 1 | 10.9 | 12.4 | 135 | 9030 | 42.8 | 814 | 28.71 | |
| GWS HD 9x7.5 | 1 | 6.9 | 9.6 | 66 | 5730 | 40.7 | 389 | 13.72 | |
| GWS HD 9x7.5 | 1 | 7.9 | 11.6 | 91 | 6300 | 44.7 | 475 | 16.76 | |
| GWS HD 9x7.5 | 1 | 8.9 | 13.65 | 121 | 6840 | 48.6 | 559 | 19.72 | |
| GWS HD 9x7.5 | 1 | 9.7 | 15.6 | 151 | 7320 | 52.0 | 644 | 22.72 | |
| APC E 10x5 | 1 | 6.9 | 8.3 | 57 | 5970 | 28.3 | 476 | 16.79 | |
| APC E 10x5 | 1 | 7.9 | 10 | 79 | 6570 | 31.1 | 588 | 20.74 | |
| APC E 10x5 | 1 | 8.9 | 11.75 | 104 | 7170 | 34.0 | 698 | 24.62 | |
| APC E 10x5 | 1 | 9.9 | 13.85 | 137 | 7740 | 36.6 | 825 | 29.10 | |
| APC E 10x5 | 1 | 10.8 | 15.7 | 169 | 8250 | 39.1 | 945 | 33.33 | |
| GWS HD 10x6 | 1 | 6.9 | 8.4 | 57 | 5940 | 33.8 | 480 | 16.93 | |
| GWS HD 10x6 | 1 | 7.9 | 10.15 | 80 | 6540 | 37.2 | 592 | 20.88 | |
| GWS HD 10x6 | 1 | 8.9 | 11.9 | 105 | 7170 | 40.7 | 707 | 24.94 | |
| GWS HD 10x6 | 1 | 9.9 | 14 | 138 | 7770 | 44.1 | 835 | 29.45 | |
| GWS HD 10x6 | 1 | 10.8 | 15.9 | 171 | 8250 | 46.9 | 949 | 33.47 | |
| GWS HD 10x8 | 1 | 6.9 | 12.2 | 84 | 5220 | 39.5 | 479 | 16.90 | |
| GWS HD 10x8 | 1 | 7.8 | 14.45 | 112 | 5700 | 43.2 | 572 | 20.18 | |
| GWS HD 10x8 | 1 | 8.8 | 17 | 149 | 6180 | 46.8 | 672 | 23.70 | |
| GWS HD 10x8 | 1 | 9.7 | 19.3 | 187 | 6540 | 49.5 | 754 | 26.60 | |
| GWS HD 10x8 | 1 | 10.7 | 21.4 | 228 | 6870 | 52.0 | 842 | 29.70 | |
| Propeller | Gear Ratio | Volts | Amps | Watts | RPM | Speed (mph) | Thrust (g) | Thrust (oz) | Temp (C) |
| APC SF 11x4.7 | 1 | 6.8 | 12.4 | 84 | 5190 | 23.1 | 648 | 22.86 | |
| APC SF 11x4.7 | 1 | 7.8 | 14.85 | 115 | 5640 | 25.1 | 788 | 27.80 | |
| APC SF 11x4.7 | 1 | 8.7 | 17.5 | 152 | 6060 | 27.0 | 927 | 32.70 | |
| APC SF 11x4.7 | 1 | 9.7 | 19.9 | 193 | 6360 | 28.3 | 1045 | 36.86 | |
| APC SF 11x4.7 | 1 | 10.7 | 22.1 | 236 | 6720 | 29.9 | 1168 | 41.20 | |
| APC E 11x5.5 | 1 | 6.9 | 10.2 | 70 | 5580 | 29.1 | 575 | 20.28 | |
| APC E 11x5.5 | 1 | 7.8 | 12.25 | 95 | 6090 | 31.7 | 700 | 24.69 | |
| APC E 11x5.5 | 1 | 8.8 | 14.4 | 126 | 6600 | 34.4 | 828 | 29.21 | |
| APC E 11x5.5 | 1 | 9.8 | 16.75 | 164 | 7080 | 36.9 | 960 | 33.86 | |
| APC E 11x5.5 | 1 | 10.8 | 18.8 | 203 | 7470 | 38.9 | 1080 | 38.10 | |